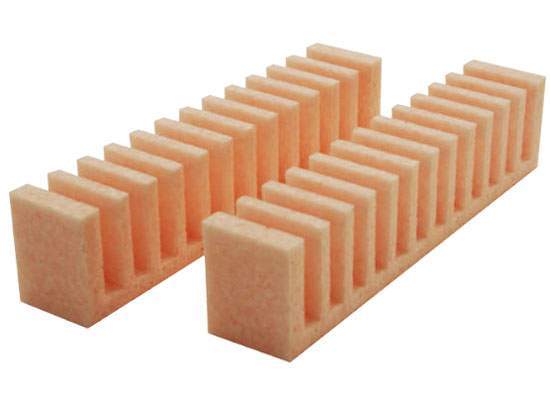 Polyethylene Foam Products:
Expanded Foam Manufacturing, Extruded, Expanded & Crosslinked Polyethylene Foam Products
Foam Products Corporation fabricates high quality polyethylene foam from plank or sheet stock. Our durable products are a great option for packing high end retail products like electronics. Polyethylene foam is a resilient product, unaffected by most chemicals, and it's easy to fabricate, which allows for better design flexibility. We can also add anti-static and fire-retardant to your product.
National & International Products Available
Polyethylene Foam Products
Polyethylene Foam Applications
Cushion Packaging Foam

Foam packaging materials can be produced in a variety of shapes and designs best accommoda…

Gasket Foam

Gasketing is vital for protecting enclosures. The most important parts of a foam gasket ar…

Foam Rolled Goods

We fabricate foam materials to match your project specifications and provide them to you i…
Product Overview
Put Your Polyethylene Foam Products to Good Use
Polyethylene is the preferred foam for a number of product applications. Cushion packaging, gasket foam, and rolled goods are the most common. Whether you need extruded, expanded, or crosslink polyethylene foam products, we can manufacture packaging tailored specifically to your needs.
A Respected Foam Manufacturer
At Foam Products Corporation, we offer three distinct fabrications of polyethylene foam products for any project. Our materials can be designed for any packaging application using planks, rolls, and sheets. We manufacture durable extruded, expanded, and crosslink polyethylene foam products. With over 50 years of experience, we provide design, engineering, and cost effective solutions for your custom manufactured insulation.
Fast-Acting Distribution Ready for Your Company
We are a trusted distributor of quality custom foam packaging to clients nationwide in nearly every commercial and industrial industry thanks to our commitment to superior customer service rivaled only by our commitment to getting the job done right. Every step of the way, we aim to exceed expectations.
A wide range of foam products across the nation
Foam Products Corporation is proud to serve customers across the nation with standard and custom foam products. Unlike other companies, you can rest assured all our foam products go through an extensive and rigorous quality assurance program. Whether you are a commercial or industrial enterprise, we can provide you with affordable solutions for packing, insulation, gyms, and more. Join our millions of satisfied customers today!