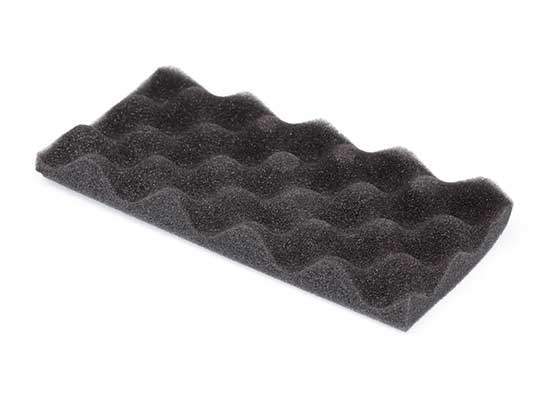 Polyurethane Foam Products:
PU Foam Manufacturing, Supply & Distribution Services
You have been tasked with finding the perfect foam goods or foam supplier for your company. Look no further than Foam Products Corporation. At FPC, we manufacture and fabricate polyurethane foam products of consistently high quality, formed, and shaped to your exact specifications. You need durable, affordable polyurethane foam. You can trust us to deliver on your polyurethane and all other foam needs.

FPC is equipped to provide the total foam needs of businesses throughout the United States and around the world. Since 1962, we have been manufacturing a wide array of foam products and have been committed to achieving the highest quality design, production, and customer service for every customer.
National & International Products Available
Polyurethane Foam Products
Polyurethane Foam Applications
Product Overview
What Is Polyurethane Foam?
Polyurethane is a polymer made up of organic units held together by carbamate links which are known as urethane. It can form through multiple chemical events, but the most common method for forming polyurethane is by reacting a type of alcohol called a polyol, made up of more than two hydroxyl groups on each molecule, with an isocyanate that has two or more isocyanate groups on each molecule. The material polyurethane can be produced with either a closed, solid cell structure or with an open cell structure. Polyurethane in its open cell form is considered polyurethane foam.
The process of polyurethane foam production begins by two streams of liquid, one containing the polyol and the other containing the isocyanate. Other additives are within the two liquids as well. Gas is introduced to turn the material into a foam. To produce the variety of densities, degrees of hardness, and flexibilities that are available in polyurethane foam products, we adjust the levels and concentrations of these ingredients.
After the material is created by combining the necessary components, the mixture is either poured into molds for specific needs or allowed to cure and dry in large blocks, which are referred to as buns. We can cut these buns of polyurethane foam into sheets and other shapes, depending on your polyurethane foam needs.
Types of Polyurethane Foam
The type of foam that is best for you is dependent upon on your objective. Different products have different characteristics. One of the great things about polyurethane is its ability to be diverse. We can manufacture it to be nearly as soft or as hard as you need it to be.
Flexible polyurethane foam. Flexible urethane foams are made with an open cell structure to allow for optimal flexibility, strength, and resilience. It is manufactured in a wide range of firmness and can be formed or fashioned into almost any shape.
At Foam Products Corporation, we typically work with and manufacture two different types of flexible polyurethane foams: polyether and polyester polyurethane. Polyether urethane is soft and non-abrasive, commonly used in packaging. Strong, durable polyester urethane is suited for environments that are more demanding. Another common use for these products is in flooring, furniture, and gymnastic mats.
Rigid polyurethane foam. Rigid polyurethane foam is usually used as insulation. These products are strong, durable, and harder than their open cell counterparts. They are often made as panels for refrigeration insulation, and their resistance to air and water vapor means it's great for construction and insulation for both residential and commercial buildings.
Uses of Polyurethane Foam
The Most Popular Uses of Polyurethane Foam Products, in Descending Order, Are:
Building and construction: Spray polyurethane foam is a common choice for insulating and sealing homes and other buildings. Polyurethane foams are also used in roofing and as a substitution for wood in different roles throughout the home. Polyurethane foam is excellent for many construction applications due to its durable, insulating, and load bearing qualities.
Transportation: Vehicles generally contain polyurethane foam in the seats as well as other parts such as the dashboard. The ability to make the material nearly as rigid or soft as desired while keeping it lightweight make it well suited for automotive applications. Even parts like bumpers can be made of polyurethane.
Furniture and bedding: Mattresses, seating, carpet cushioning, quilting, and gymnastic mats are often made using polyurethane foams because of their ability to rise freely and retain their original shape while being soft and shock absorbent.
Appliances: Of its uses in appliances, polyurethane foam is generally used in refrigerating appliances like refrigerators, freezers, coolers, and refrigerated trucks. It is perfect for refrigeration needs because of its low thermal conductivity.
Packaging: The soft, non-abrasive, durable qualities of polyurethane foams allow for excellent packaging abilities. They are cost effective and are able to be cut or molded into the form-fitted shapes you need to ship and transport valuable goods from electronics to medical gear to fragile souvenirs to expensive industrial components.
Benefits of Polyurethane Foam
Polyurethane foam has many advantages. Your foam products will be manufactured to have the qualities that are most important to you and necessary for your application. Some highlights of polyurethane foams are:
Flexibility
Resistant to abrasions, cuts, and tears
Breathability
Insulation capacity
Rigidity
Durability
Affordability
Resilience to oxidation and aging
Ease of shaping and profiling
Mold and fungus resistance
Color range
Load bearing capacity
Shock absorbance and resilience
Ability to perform in harsh environments
Order Polyurethane Foam Now
Polyurethane foam is versatile, easy to work with, and affordable. No matter what your business is, chances are polyurethane foam is involved in some way. Count on FPC to design and produce the best polyurethane foam supplies for you, whether you're looking to safely package your valuable products, assemble the most efficient refrigeration appliance, or pad hard flooring in your construction work. We have been supplying customers, both locally and globally, with quality, reliable custom and standard foam, polyurethane and otherwise, for nearly sixty years.
A wide range of foam products across the nation
Foam Products Corporation is proud to serve customers across the nation with standard and custom foam products. Unlike other companies, you can rest assured all our foam products go through an extensive and rigorous quality assurance program. Whether you are a commercial or industrial enterprise, we can provide you with affordable solutions for packing, insulation, gyms, and more. Join our millions of satisfied customers today!