Foam Products Corporation / Foam / Specialty Foam
Cornice Foam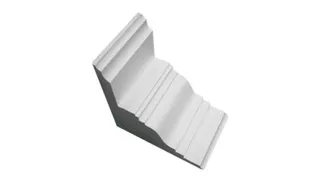 Cornice Foam Product:

In addition to columns, the software and machinery at Foam Product Corporation can also create custom foam cornices and moldings to add flair to your project. As a national foam manufacturer, we believe in creating practical products, but we also believe in creating beautiful ornamental products as well. Foam is versatile, and at FPC, we do the most to make the most of every product, whether it's useful or decorative.

National & International Products Available
Have a Question About Cornice Foam?
Cornice Foam Applications
Product Overview
Create Custom Foam Cornices
Foam Products Corporation offers our clients custom cornice molding for architectural applications. Using foam cornices adds an elegant feel to any home or commercial building at a fraction of the cost of more expensive cornice materials such as stone. Foam Products Corporation has the capabilities to create beautiful exterior foam cornices ready to be installed on your architectural project. All of our cornice moldings are fabricated using high quality foam materials and can be custom designed to best fit your design.
Custom Foam Cornice Moldings
Complement the design of any architectural pursuit with high quality cornice molding fabricated from sturdy foam materials. Foam Products Corporation has the machinery and CAD (Computer Aided Design) software to help you design beautiful custom foam cornices for your project. We are proud to meet the needs of our clients while simultaneously saving them money on materials. If you have a will, we have a way to provide you exceptional custom foam cornices.
The Wonders of Foam Cornices are Endless
While foam cornices may not be the most versatile products, they are part of our specialty items. Adding pizzaz to projects is an important way to set them apart in a distinctive way, which is why custom foam cornice moldings are relevant. With custom foam cornices from Foam Product Corporation, you can have practical and frivolous details attended to.
A wide range of foam products across the nation
Foam Products Corporation is proud to serve customers across the nation with standard and custom foam products. Unlike other companies, you can rest assured all our foam products go through an extensive and rigorous quality assurance program. Whether you are a commercial or industrial enterprise, we can provide you with affordable solutions for packing, insulation, gyms, and more. Join our millions of satisfied customers today!