Foam Products Corporation / Foam / Pit Foam / GloFoam
Pit Foam / Glo Foam™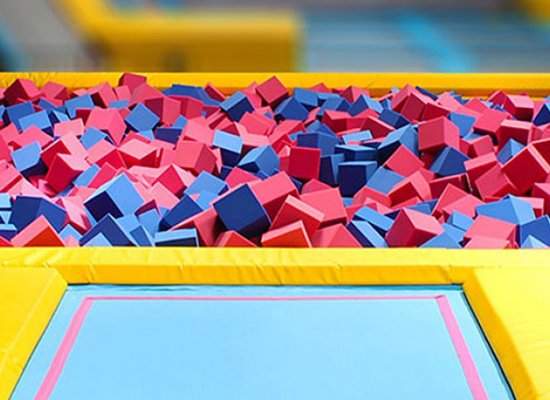 Pit Foam / Glo Foam™ Product:

As a leading manufacturer of commercial and industrial foam packaging and insulation, Foam Products Corporation is your number one choice for GLOFOAM™, our latest innovation. This option is ideal for play areas and parks. Our pitfoam and GLOFOAM™ products prioritize safety first and foremost so that customers, visitors, workers, and everyone involved can have a safe, fun experience in an otherwise dangerous situation.

National & International Products Available
Have a Question About Pit Foam / GloFoam?
Pit Foam / GloFoam Applications
Product Overview
Pitfoam Products
FPC specializes in foam products and has fabricated custom designs for more than 200 parks. Our manufacturing process, design, and quality are fully integrated with what you are looking for. This includes custom vinyl covered safety foam padding for ninja and extreme adventure parks, trampolines, and protection for other activities. GLOFOAM™ products glow in the dark under U/V light and are an exciting way to enhance many activities.
GLOFOAM™ Products
Our specialty foam products are used in several different industries. This includes construction, insulation, prototyping, and other projects. Our capabilities include CNC (Computer Numerical Control) routing, laminating, hot wire cutting, die cutting, and of course, custom glow foam manufacturing. Feel free to contact our amazing team to learn more about products and services when it comes to our GLOFOAM™ and pitfoam products.
You'll be Amazed at the Versatility of Pitfoam
Many of our specialty foam products can be used in several different applications and even across numerous industries. Whether it's for an adventure park or for a dangerous work zone, our foam products serve to protect people and improve experiences everywhere.
A wide range of foam products across the nation
Foam Products Corporation is proud to serve customers across the nation with standard and custom foam products. Unlike other companies, you can rest assured all our foam products go through an extensive and rigorous quality assurance program. Whether you are a commercial or industrial enterprise, we can provide you with affordable solutions for packing, insulation, gyms, and more. Join our millions of satisfied customers today!